Remove Possums Under Your Deck With Humane Possum Removal Brisbane
Possums are messy, destructive, and disease-spreading nocturnal pests that keep returning to their former nest if not controlled by professional possum catchers. With scattered excretes and urine, they hamper the hygiene of your home and contaminate the edibles, which could spread life-threatening diseases, including tularemia, leptospirosis, tuberculosis, relapsing fever, etc. Also, their urine and droppings emit a terribly foul odour that can make anyone sick.
These marsupials usually nest mostly in the decks, attic, roof, and other hidden parts of a home, making your life terrible. Removing them from the hard-to-reach areas, including the decks is pretty tough for a person who hasn't handled such tasks before. To help you out, we at Humane Possum Removal Brisbane offer you a reliable under deck possum removal service at a reasonable budget.
Before this pesky pest poses any threats to you, your family members, pets, or property, get in touch with us today to book our under-deck possum removal services. We are available 24/7 and are ready to offer you a same-day service!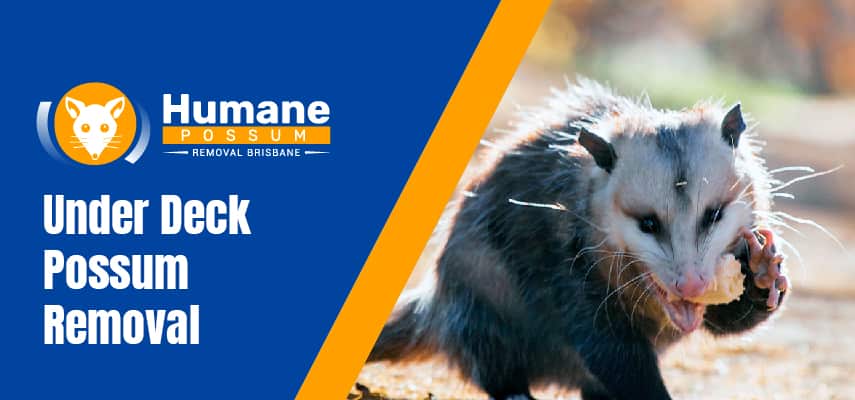 What Approaches Should Be Taken To Eradicate Possums That Are Nested Under The Deck?
Possums are commonly found pests in Australian households. As long as you are not hurting them, they won't attack you. But they can make your life a living hell by causing structural damage and making your premises untidy. According to Australian law, killing possums is illegal. Also, removing possums requires a special skill set. So, you better hand over the responsibility in the hands of the professionals. Our competent possum catchers are licensed and certified, thus safe to hire.
We skillfully spot and catch the possums with traps and baits from the deck and release them within a 50-metre radius of your home as per the law.
Also, we make sure not a single possum is harmed during the removal treatment.
Moreover, as a preventive barrier, we seal all the possible entry points of your premises, making your property possum-proof.
Why Should You Appoint Us For Under Deck Possum Removal In Brisbane?
The simplest answer to this question is our promptness and quality service. All our team members are highly experienced, each having Certificate III in pest control operations. And like others, we never make any unnecessary delays. Our full-fledged team reaches your doorstep at the right time and removes the possums under your deck before they damage something!
In addition to that, we strictly obey all the norms and standards set by the governing bodies while conducting an under deck possum removal program. Also, with us, you can get a one-year warranty on our offered service. That means, if you find any more possums under your deck within this period, we will offer a follow-up service at discounted prices!
On top of that, we offer a same day possum removal service for emergency cases when booked early. Besides keeping our service charge reasonable, we make sure our quote is free from hidden charges.
Are you ready to experience the most hassle-free under deck possum removal service in Brisbane? Then you must call us!
Suburbs We Serve In Brisbane
Possums are noisy pests that can give you sleepless nights. If you are tired of their tantrums and want to get rid of them, book our under deck possum removal services immediately. With a trustworthy and skilled team of possum catchers, we first assess the number of possums living under your deck and remove them with a customised treatment plan. We serve throughout Brisbane and its top suburbs and CBD areas. Here are some areas where we provide our quality possum removal services.