Excellent Possum Removal Company In New Farm
Are possums damaging your property? Need possum removal services in New Farm? Humane Possum Removal provides fast and secure possum removal services in New Farm. Moreover, our cage-trapping methods are extremely effective in removing possums. Our Possum Removal New Farm team of catchers is experienced and provides excellent possum removal treatments.
We are a legally approved team of experts who successfully remove all the possums and relocate them far from your property. Moreover, our possum pest control experts carefully set traps and baits to catch them and provide effective removal of possums in New Farm. Our years of experience make us the No. #1 choice for trapping and catching possums on your property. To reduce possum activities and infestation in your home, book our local possum catchers today in New Farm! To book our affordable services, dial 07 3186 8640.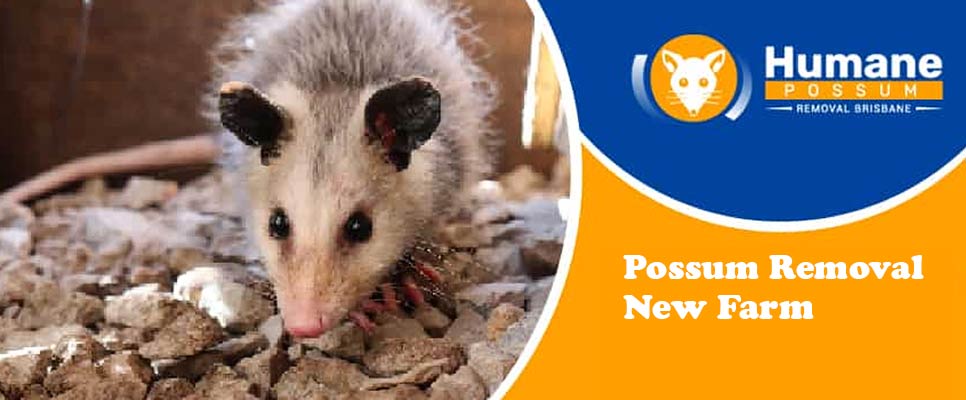 Types Of Possums We Deal With In New Farm
Possums are wild animals and any attempts to remove them should be made by a professional. We have proper training and knowledge when it comes to catching and removing possums. Our catchers are educated in their behaviour and their habitats as well. Therefore, handling possums makes it easier for us. Here are the types of possums we deal with in New Farm.
Common Brushtail Possum
They are large with bushy tails. Moreover, they have pointy ears as well. Furthermore, brushtail possums are grey and black bands on the snout. Also, they have brownish bellies. Our effective catching and trapping techniques help remove possums from the roof and from your property effectively.
Common Ringtail Possum
Ringtail possums are grey to reddish-brown. Moreover, they have pale to white colour bellies. Also, their ears are round in shape and short. They are brown eyes and clawed toes. Our experts are familiar with ringtail possums and safely remove them from your premises.
Why Do You Need To Remove Possums From Your Property?
If your attic or your property is infested with possums then it is important to remove them. Here are some major reasons why you need possum removal.
Possums litter everywhere and breed easily, therefore slowly damaging your whole property.
They have the potential to injure babies and children.
Possums damage the whole yard and garden plants.
In search of food, they dig up the litre cans, making everything a mess.
They can easily spread bacteria and contamination through feces droppings.
Their urine and feces can slowly seep through your roof.
Possums carry fleas, making them easily transferable to your pets.
Our Possum Removal Process
We provide a standardised process to remove possums safely and harmlessly. Moreover, we offer a range of possum removal services and follow a proper protocol. Here is our full procedure to remove possums from your property.
1. Inspection
Our catchers look around the property and spot the hot spots of possum infestation. Moreover, our possum catchers find out the extension of possum infestation at your property. Therefore, our experts make sure to catch all possums on your property.
2. Removal
Our team plan includes the use of trapping devices. Moreover, we seal off all the access points from which the possums can run away. Moreover, by using baits we ensure the trapping of possums and release them at least 50m away.
3. Follow Up
Our company ensures follow-ups to provide complete removal services. The follow-ups help your property to be completely possum free.
Dead Possum Removal In New Farm
Killing and poisoning possums are illegal! But sometimes possums can infest your property and die a natural death. Therefore, in these times you need to reach out to us. We can safely remove the dead possum from your property. For this, our possum removal New Farm team provides dead possum removal services. Hence, helps you avoid infestation and remove the foul odour as well. Our possum control team cleans the whole area and provides deodorisation services to remove the smell from your property. Moreover, disinfecting the area reduces the chances of getting diseases and infections.
24 Hours Emergency Possum Removal In New Farm
We provide emergency possum removal services in New Farm for all kinds of urgency. If your commercial place is being infested by possums and needs urgent removal, then don't worry! As soon as you book our emergency possum removal services, our catchers will arrive at your place at your convenience. Moreover, even if your residential property is being infested by possums, our possum catchers can help you. Additionally, you don't have to worry about the cost of emergency services, as we add no extra costs for emergency possum removal services in New Farm. Give us a call to book the Possum Removal New Farm service today! Our experts are also here to provide you with under deck possum removal, and backyard possum removal services.
We Serve To All Suburbs Nearby New Farm
If you are facing issues regarding possums and need possum removal services in the suburbs nearby New Farm, then also you can call our team! Our company provides the best possum removal services for both commercial and residential properties in the neighbourhood of New Farm! Moreover, you can book our services on weekends and holidays as well. Simply dial 07 3186 8640 to avail of our possum removal services.
Why Hire Us For Possum Removal In New Farm?
If you are wanting to book possum removal services in New Farm and are confused why do book our Possum Removal New Farm experts? Then, here are some good reasons why you should pick us.
Our experts are highly trained and certified. Therefore, we know exactly what to do and will require less time to remove possums from your property.
We provide extremely affordable services for possum removal.
You can easily book our services 24×7, even on holidays and weekends.
We provide emergency and same-day possum removal services in New Farm for any urgency.
FAQs
How do possums access the roof?
Even if you have a small gap opening the size of a small golf ball, possums may enter your roof. Moreover, tree branches reaching your rooftop make it easy for them to climb onto the roof and enter your attic. 
If possums die on the rooftop or attic, how long will it take to remove the lingering smell?
We provide deodorisation services that ensure the removal of the smell to be gone immediately. 
How far can possums be relocated from my property?
As possums are protected under the law, it is required to relocate them within 50 meters of the location they were trapped in. 
Location: New Farm, QLD 4005, Australia