Possum Removal Company in Surfers Paradise That You Can Trust
Your home has to be free of possums as soon as feasible. In general, they prefer to live on rooftops and underground. Here at Humane Possum Removal, we have solutions that will solve your problem without any harm to your home, possums and the surroundings. Since possums can bite and scratch if they feel threatened, property owners must avoid removing them themselves. Our skilled professionals can remove possums efficiently and humanely. Get in touch with us right now to learn more about the most effective possum removal service in Surfers Paradise for your needs and budget.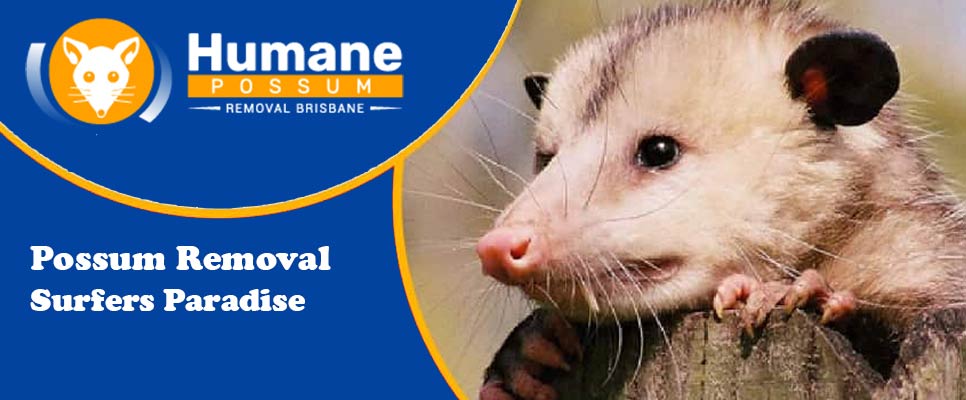 Why Is It Necessary For You To Remove Possums From Your Roof?
Possums are a typical pest in private residences, public structures, and educational institutions. Possums urinate through your roof, creating loud noises in addition to yellow stains on your walls or ceiling. Additionally, they will leave a lot of droppings all over the roof area, which is a clear hygienic problem. Possums provide a health risk to people because they can harbour a wide range of mites, ticks, parasites, and bacterial illnesses that can all be transmitted to people.
Moreover, possums are notoriously destructive. They can become entangled in the wiring and lights in the roof void in addition to enlarging entry openings to roof voids to facilitate access. They are thought to pose a fire risk since they tend to move around and use insulation as nesting material. Thus, if you have possums on your roof, you must remove them as soon as possible.
Our Best Possum Removal Technique
Since possums are omnivorous and don't make dietary distinctions, there are certain actions that homeowners can do to prevent them from frequenting their property. The most crucial thing to keep in mind is not to leave garbage outside of your house, particularly at midnight, and to constantly make sure that the trash cans are properly closed. If your home has trees for fruit or a garden, these creatures might be more likely to target it. Here is our highly effective possum removal strategy.
Identifying the problem: Correctly identifying the pest issue is crucial. Numerous native creatures, including antechinus, native rats, and several possum species, frequently reside in and around homes. We can choose the most effective control strategy by figuring out the pest issue. We will do a thorough pest inspection of the building and the surrounding area, using night vision and motion detection cameras as necessary. If possums are the issue, we must conduct a humane possum removal.
Locate the possum entry points: It's critical to locate any potential possum access points. After finding the entry points we will do the necessary percussion and seal the entry points.
Possum trapping: While the possum is out seeking food at night, a possum trap is usually set on the roof. Usually, it only takes a few hours to capture the possum. Following the cage set-up, we inspect the trap every hour till they enter the cage because we are only able to hold a possum in the cage for a maximum of 24 hours.
Roof possum protection: After the possum has been removed, all access points must be fixed, sealed, and rendered possum-proofing. Additionally, it keeps any additional possums from settling there. Possums can climb trees, so any trees that provide access to the roof must be cut back or equipped with a collar.
Post-inspection: Following the resolution of your possum problem by one of our Possum Removal Surfers Paradise experts, you can also plan for possum-proofing which is an ideal solution lasting for years. To erect a protective wall around your home, we surround the ground with a solid base. Then, we treat siding, windows, and doors to deter them.
What Australian Safety Laws Say About Possums
In Australia, possums are protected by law under various state and territory legislation, as well as national laws. The laws generally aim to protect possums and their habitats and regulate how they can be managed or controlled.
In general, it is illegal to harm or kill possums without a valid permit or authorization from the relevant government authority. This includes capturing, trapping, relocating, or interfering with possums or their dens or nests. In some states, possums may also be protected under wildlife conservation laws, which impose additional restrictions and penalties for harming or killing them.
If you have a possum problem on your property, it is important to seek advice from a licensed wildlife expert or pest controller, who can provide humane and legal methods for managing possums. They may also be able to provide information on how to deter possums from entering your property or causing damage.
It is important to note that penalties for violating possum protection laws can be severe, including fines and imprisonment, so it is important to comply with the relevant laws and regulations.
Possum Removal Services In Surfers Paradise
Once they build a nest in your attic's walls, or under the deck or porch, possums may cause serious harm that can cost thousands of bucks to restore. Possums will also frequently visit your attic because they get along with people well. If you think you could be having a problem with a possum, call us. You can get a variety of services from our experts.
Emergency Possum Removal
Possum Nest Box Installation
Possum Control Box Installation
Pre-purchase Possum Inspection
With our same-day Possum Removal Surfers Paradise services, we'll take care of the possum "problem". We will inspect and tell you what you need to do to get rid of that possum and keep it from coming back. Our experts at Humane Possum Removal are ready to provide you with emergency possum removal in Surfers Paradise right away!
Why Should You Choose Us To Remove Possums?
We are confident in the services we provide to our community because we are a locally-based, family-owned business in Surfers Paradise. Our possum removal Surfers Paradise staff takes pleasure in building long-lasting connections with customers while delivering knowledgeable, kind, and expert service.
We are Surfers Paradise experts with possum removal operating licences.
Our possum removal Surfers Paradise team undergoes regular training to stay current on best practices.
You don't have to worry about the safety of your family or the surroundings with our proven possum removal Surfers Paradise procedures.
Our Possum Removal Surfers Paradise staff provides a free estimate.
You can rely on us to provide the best possum removal service possible in Surfers Paradise because we recognize that our customers are families.
For our staff, no outbreak is too large to handle.
We Are Serving In Surfers Paradise And Its Neighbouring Areas
Location: Surfers Paradise, QLD 4217, Australia